Incredible World Championship Performance
Omega Alpha Ambassador Dan James Rises Again with Incredible World Championship Performance
Lexington, KY (May 4, 2015)— When the spotlight found Dan James beside his horse, IRA Top Gunner, during the recent Kentucky Reining Cup Freestyle World Championship, it appeared at first that James could hardly walk— and the crowd wondered in anticipation how James would possibly be able to ride.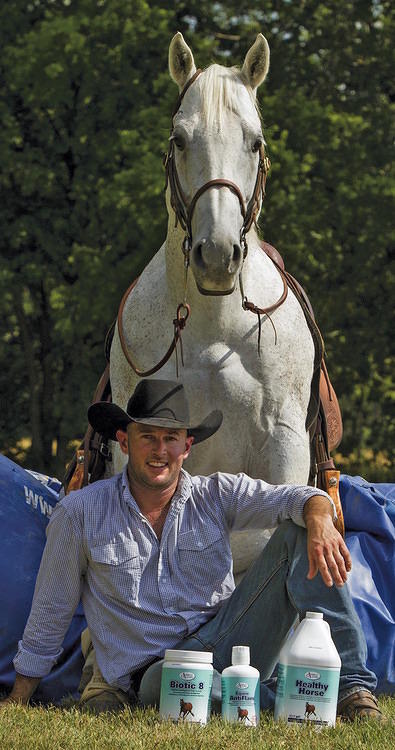 But step-by-step with his trusting steed, James leaned on his crutch as he approached the center of the ring – a very different image than what audiences saw last year as he galloped down centerline dressed as Tonto to the tune of "The Lone Ranger," and won the 2014 Kentucky Reining Cup Freestyle World Championship.



After a young horse fell on James on March 6, 2015 and crushed his lower right leg, the professional reiner's riding career could have easily been over. Luckily, fate had other plans. "God's grace, wonderful surgeons, nurses, and amazing friends have helped lead to a speedy recovery," James announced before the Kentucky Reining Cup Freestyle World Championship in the Kentucky Horse Park in Lexington, Kentucky.
Inspired by those who have fallen and risen again, James found the courage and the strength to rise again himself. He was cheered on from the audience by countless fans and supporters, including representatives from Omega Alpha Pharmaceuticals, Inc. Omega Alpha— a producer of natural, science and research-based health supplements for humans, horses, and other animals— is as strong of a believer in the ability to heal as James is. The company's representatives were filled with pride to see Omega Alpha Ambassador Dan James step bravely into the World Championship arena.
As James asked his horse to lay down in order for him to be able to mount, it was clear he was riding for so much more than to defend his 2014 championship title. And as IRA Top Gunner loped off with James aboard, the audience cheered — amazed at the act of determination and faith.
James's incredible bridleless performance won him the People's Choice Award— awarded to him for the second time in a row at the Kentucky Reining Cup Freestyle World Championship. Patti Hanco, Director of Business Development for the equine division of Omega Alpha, watched in awe as James beat the odds right before her eyes. "It was just magical," she said. "I cried! We were all so happy for him."
James is one of many talented riders of various disciplines proudly sponsored by Omega Alpha — an organization dedicated to the wellbeing of horses to help horse and rider teams reach their fullest potential.
For twenty-two years, Omega Alpha Pharmaceuticals has been developing natural equine products through research-based science. Today, Omega Alpha produces more than 300 effective supplements in five product divisions—Consumer Health Products, Pet Health Products, Equine Health Products, Professional Naturopathic Health Products, and Professional Veterinarian Products. The company's products have been known to prevent and heal health conditions, behavioral issues, and temperamental problems in horses. Omega Alpha, based in Toronto, Canada, has been growing in popularity throughout the United States because of the impressive results it produces. Dedicated equestrian professionals like Dan James make sure to keep Omega Alpha products on hand.
To learn more about Omega Alpha, visit www.OmegaAlpha.ca or call 1-800-651-3172.