MyHorseForSale.com Affiliate Program earn money for your club or Association
JOIN THE MYHORSEFORSALE.COM NETWORK TODAY.

The MyHorseForSale.com affiliate program is unique in that it is customized for each association, club or business and provides ad content for viability along with corporate support. Start earning money for your club, association or business today.
Email us today to learn more about the MyHorseForSale.com affiliate program, sales@myhorseforsale.com.
Our affiliate program allows clubs, associations and equine entrepreneurs a way to make additional revenue and have a pre-populated equine classified web portal on their existing sites.
E-mail us today at sales@myhorseforsale.com.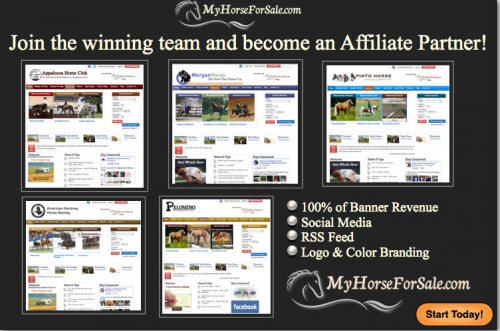 MyHorseForSale.com Affiliate Partners
NEW!! North American Western Dressage – NAWD.myhorseforsale.com
Appaloosa Horse Club ApHC –  Appaloosa.myhorseforsale.com
American Morgan Horse Association AMHA – Morgan.myhorseforsale.com
Palomino Horse Breeders of America PHBA – Palomino.myhorseforsale.com
Pinto Horse Association of America PtHA – Pinto.myhorseforsale.com
American Trail Horse Association – ATHA.myhorsforsale.com
Hackney Horse Society – Hackneyhorse.myhorseforsale.com
MyPleasureHorseForSale.com –   mypleasurehorseforsale.myhorseforsale.com
Walking Horse Report –  walkinghorsereport.myhorseforsale.com
Saddle Horse Report –  saddlehorsereport.myhorseforsale.com
NWHorseForSale –  nwhorseforsale.myhorseforsale.com
Natural Horsemanship and You – naturalhorsemanship.myhorseforsale.com
How To Sell Your Horse Fast
Do you want to sell your horse fast? We've put together a guide to help you understand your options and walk you step by step through the process.