10 Interesting Facts About Appaloosa Horses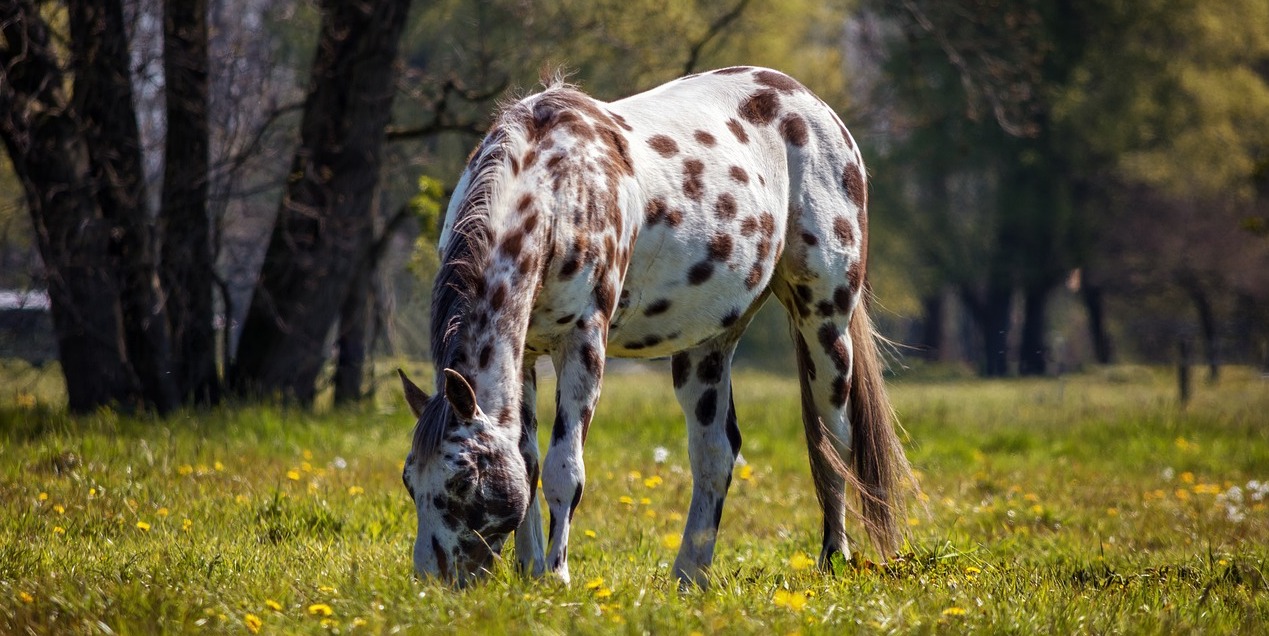 Appaloosa is one the oldest American horse breed, known for its colorful spotty bodies, versatile nature, and historical importance. Nez Perce tribe of Native Americans is credited for the initial development of this breed in the Palouse region of North-western America. Due to the importance of appaloosas for Idaho State, they were given the status of Idaho's state horse in 1975 through the Appaloosa Horse Club in Moscow, Idaho.
Here are 10 interesting facts about the Appaloosa horse breed:
#1: NAME "APPALOOSA" DEVELOPED WITH TIME
Palousey, Appalousey, Appaloose, and many similar names have been used for Appaloosas in history. As they originated from Palouse county, an area in northern Idaho, Washington, and Oregon. They were named after that area. "Appaloosa" is the developed form of "a-Palouse horse".
#2: HORSE OF MANY COLORS IS DUE TO LEOPARD COMPLEX 
Leopard complex is the group of different color patterns in horses as in Appaloosa breed and studies revealed that Lp- Gene is involved in producing these great many colored coats. This variety of colors is appreciated by Appaloosa Lovers. The most common color patterns are named leopard, spotted blanket, marble, frost, Snow Flicked, and white Blanket for different speckled appearances.
Leopard complex involves some other traits too.
White Sclera: Sclera around the cornea of the eye is white in Appaloosas
Mottled Skin: Skin on the muzzle, face, and around genitalia is mottled
Striped Hooves: Usually the stripes on the hoof of the horse are not present, however regular stripes on the hooves of Appaloosas are a distinct feature of the breed.
#3: SPOTTED HORSES ARE PREHISTORIC
About 2000 years old historic context in the form of cave paintings shows some horses with the spotted coat, which depicts the presence of Appaloosa like horses in that age. It is not confirmed that horses depicted in paintings are the ancestors of Present Appaloosas; however, researchers realized the presence of the Leopard complex gene in prehistoric times.
#4: THEY ARE NICK-NAMED "APPY"
Appaloosas are horses of good temperament and calm demeanor. If they are gently treated with care you can have the best companion horse. However, if they are treated roughly, be prepared for the "Appy Attitude: in response. Appaloosas are sometimes bad reputed due to their pushy and stubborn attitude, that's why they are named as "Appy".
Generally, Appaloosas are very friendly, hard-working, and versatile. They are specially used by beginner horseback riders due to its good temperament, however; beware to break the trust.
#5: THEY CHANGE THEIR COAT COLOR WITH AGE
An appaloosa foal usually has plain coat color, but the color doesn't remain the same with age. To get the final speckled coloration, Appaloosas keep on changing the coat color until they become adult. After that, the coat color remains the same. The average life span of an appaloosa is 25 to 30 years.
#6: ALL APPALOOSAS ARE NOT SPOTTED
Another exception! Some appaloosas have a solid skin coat and could not be recognized by appearance. But such horses tend to produce a characteristic spotty foal due to their genetics. At the same time, the foal of two appaloosas with a solid coat is called the non-characteristic horse. Solid Coated Appaloosas can be recognized by breed-specific genetic testing.
#7: THEY WITNESSED THE NEZ PERCE WAR
In 1877 Appaloosas witnessed the Nez Perc war, an armed conflict between the Nez Perce Tribe of Native Americans and the United States army. Nez Perce was known for good horse breeding practices and for using appaloosas in war. During the war, the tribe resisted and then tried to escape with a large number of Appaloosa horses but failed.
During that conflict, the US Troops almost destroyed the breed by killing about 2000 Appaloosas. Rest were sold out and scattered as wild horses. However, the breed was conserved by an unnamed merchant of Oregon.
#8: AMAZING COLOR PATTERNS HAVE ATTACHED RISKS
Leopard Complex gene, which is responsible for the eye-catching colors and other unique features of appaloosas also produce some health risks. As the colorization gene (Lp-Gene) involves pigmentation of different parts of the body, some horses could not develop sufficient pigmentation around their eyes and are more prone to eye disease like Recurrent Equine Uveitis. Consequently, appaloosas are more sensitive to UV-rays.
Researchers find that less Pigmentation in the eyes is also a leading cause of night blindness in appaloosa. However, by considering the genetics and standard breeding practices, these risks can be reduced.
#9: EVERY SPOTTED HORSE IS NOT APPALOOSA
Just spotting of color on skin is not enough to name a horse Appaloosa. 
Spotting of color coat in horses is associated with the mutant Lp-Gene. This Leopard complex-associated gene is present in many other horse breeds too like paint Horse, Knabstrupper, Pony of the Americas, and Miniature horses which have Appaloosa-like appearances due to leopard complex genes.
Many ponies and draft horses with spotted skin pigmentation may have common ancestors with Appaloosas. However, it is necessary to have specific characteristics for a horse to be Appaloosa.
#10: Disney's Run, Appaloosa, Run
"Run, Appaloosa, Run" is a famous theatrical film released in 1996 by Disney. This show featured an appaloosa named Holy Smoke and Mary, an Indian girl. It's all about growing the girl and her appaloosa from adversity. The obvious reason for featuring appaloosa is that they are born to be colorful, industrious, and film stars!
How To Sell Your Horse Fast
Do you want to sell your horse fast? We've put together a guide to help you understand your options and walk you step by step through the process.