Helpful Guide To Buying Your First Horse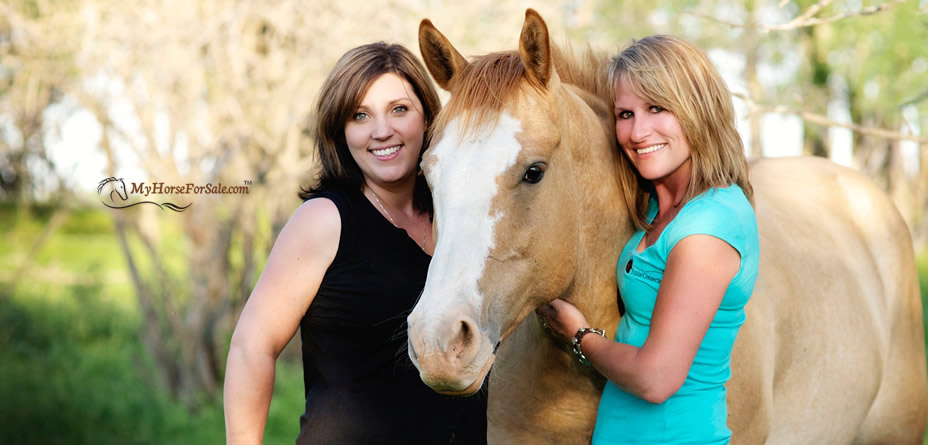 Are you considering buying your first horse? Well, it is an exciting feeling to think about all the fun you'll have. Some compare it to getting that first car that was truly yours. Before you do anything else, please go through this helpful guide so you're better informed about what all you're getting into. While a horse can bring joy and companionship to you, buying the wrong horse can lead to months or even years of frustrations.
When looking to buy your first horse, you need to consider these 7 things:
We'll look at each item on the above list shortly. At the end of this article, we've put together a step-by-step checklist for looking buying the right horse.
Why Are You Buying A Horse
To start off right, you should be very clear about why you want to buy a horse. The specific reason you want a horse can lead you down a very different path and will be an important factor when searching through horse for sale ads.
There are many reasons why people own horses. Here are some top reasons:
The pleasure of riding and other recreational activities,
Equine sports/showings such as dressage and eventing,
As an investment in the future either after training or breeding,
For doing certain tasks around the farm,
For the emotional well being and as a stress reliever
Your Knowledge & Experience About Horses
Your reason for buying a horse should match your knowledge and experience with horses. For example, if you're planning to buy a horse for breeding, you should be familiar with the breeding process and cycles. Otherwise, you'll have to rely on professional help to accomplish your goal. This is not necessarily a deal-breaker but you should consider this when looking to buy your first horse. If you're lacking in skills, consider taking lessons or working under a professional to build up the experience you need.
The Cost Of A Horse
The cost of a horse can vary greatly and is a key consideration when choosing your first horse. There are many factors that go into the price of a horse and as you evaluate the different horse ads, you will get a sense of what you're likely to spend. Here are some factors that go into the price of a horse:
The breed of the horse. Some breeds like the Friesians and Warmbloods tend to cost higher than the Appaloosas,
The age of the horse. Usually, the younger horses would cost less than mature ones and older horses tend to cost less than those in their prime,
Horse training does factor in especially when a horse has been trained in specialized skills,
Potential for breeding
You can get a feel for what you'd pay for by looking at existing horses for sale and choosing the breed you want. When looking at horse ads, be careful to not be enticed by very low prices because they may indicate a scam ad or there may be something wrong with the horse.
Horse Breeds Vary In Personality & Care
Another thing to keep in mind is that the various horse breeds have different personalities. Generally speaking, horse breeds can be classified as being cold-blooded or warm-blooded. The cold-blooded are generally calm and not easily spooked. They make great horses for beginners. Warm-blooded horses are easily spooked and usually require a skilled rider to handle them.
One feature of horses that you'll see often in the horse ads is horse temperament, which is a measure from 1 – 10 (or 1 – 5) of how cold or warm a horse is, referring to their personality. You should pay close attention to this number as it gives you a general idea of how a horse behaves in certain situations. Sometimes horse sellers don't accurately label the horse temperaments so it's important to ask for more details when you chat with the horse seller.
The Cost Of Owning A Horse
Purchasing a horse is only part of the cost of owning a horse. Owning a horse comes with a number of expenses that you need to be aware of. A good way to plan for these expenses is to try and look at them on a monthly schedule or 2-week schedule depending on how you get your income. That way, you are able to anticipate the needs of your horse.
Here's a list of expenses that you need to factor into the cost of owning the horse. This list is by no means complete so it's important to do your research.
Cost of feed for the horse including grain mix, hay, salt and minerals,
Cost of shelter. If you have enough land you can put up a barn but there's also the option of using a boarding service and for that, you may need to budget for boarding fees and service charges,
Healthcare costs for medical checkup, vaccines, professional consultation, medicine, and hoof care,
Horse equipment including supplies and tack,
Stable bedding and cleanup,
Professional training if you'd like to train your horse. If you buy a horse that has been trained/does not need training then you can skip this,
Transportation costs whenever you want to travel with your horse
In addition to the items above, you should set aside some money for emergencies. When life happens, you need to be ready to handle any issues that may come up and usually, that requires money.
Keep a list of the various equine professionals so that when you actually need their services you know who to call. Ask for referrals for veterinaries, farriers, barn/stable keepers, and other professionals and have a chat with them so that when you need them, you've already had a conversation with them.
Land Considerations
Horses need enough land for a stable and to exercise in at the very least. Generally speaking, 2 acres of land will serve many horse breeds well but may not provide enough ground for the forage needs of your horse. Horses have a lot of energy that should be put to use whether through riding or other physical tasks around the farm. Thankfully, there's an option for those who don't have enough land. There are stabling companies in many areas that provide boarding services for horses. These companies do increase the cost of horse ownership quite a bit but they provide much-needed services.
Consider hiring a horse dealer
Being your first horse, it may be best to hire a horse dealer to help you with the process of buying a horse. Horse dealers not only have experience looking for the perfect horse for their clients but also are connected to the local equine community which helps get better deals.
The best place to start looking for a horse dealer is your local equine organization or have your friends suggest someone they've used before. It's important to deal locally because it reduces the chances of being scammed or getting a bad fit for a horse. Insist of meeting face-to-face with the horse dealer to get a feel for who they are and if they have what it takes to find a good horse for you.
Now that we've gone through the important aspects of horse ownership, let's look at how to shop for a horse, do a trial run, and bring him/her home.
Buying Your First Horse, The Checklist
Search online for horses for sale in your area. It's important to limit your search within driving distance so that if you like the horse you can drive to the location for a physical look. Online platforms such as MyHorseForSale.com allow you to search by breed, location and even price range which will save you time.
Before contacting a horse seller, decide if you'd like to open a separate email account or get a phone number just for the purpose of communicating with sellers. The problem with giving your personal email or phone number online is that you open yourself to unwanted spam. I recommend you open a free account. It'll save you a lot of frustrations after the fact.
Contact sellers, taking note of which ad goes with which seller. You can add the name of the horse in your communications to easily remember which ad you're referring to.
Ask a lot of questions. Don't be shy to ask the seller questions. Ask about why they are selling, how long they've had the horse, and any health issues in the past. Only sellers who answer your questions should be considered for the next round of communication.
At this point, you'll have a few good leads. Schedule a physical look and ride. This is an important step as it'll help you confirm things that the seller has told you up to this point. Take an experienced horseman with you when you go to look at the horse. They can spot something that may not be apparent to your untrained eyes.
If you like what you see and the experience of riding the horse, put together a written offer. This offer should be made contingent upon a health inspection and verification of the paperwork the seller has supplied. It's important at this point to consult with an equestrian attorney and veterinary to make sure everything is in order.
Lastly, the close. If everything checks out, it's time to close the deal. By this time you or the seller has arranged transportation and your farm is ready for your new horse.
That's it! Your horse will change your life in ways you can't imagine right now. Follow this guide for the best success.
How To Sell Your Horse Fast
Do you want to sell your horse fast? We've put together a guide to help you understand your options and walk you step by step through the process.