SCAM ALERT – The Friesian Scam is back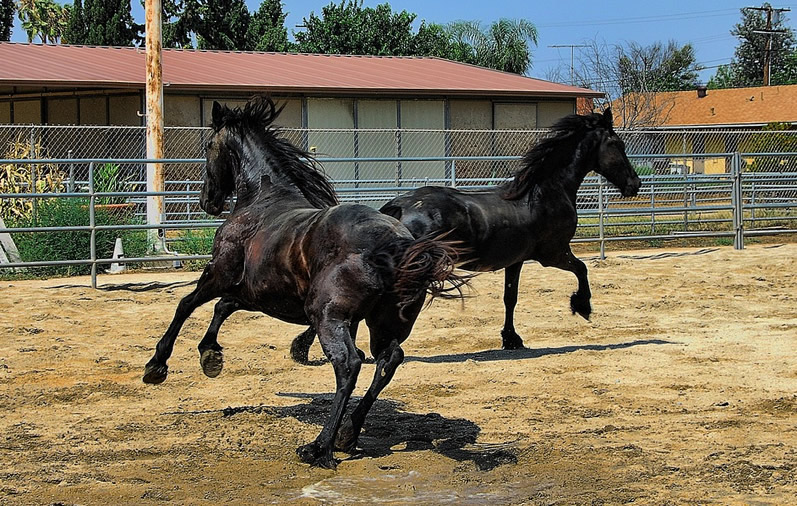 "The Friesian Scam" – This is one of the most popular horse scams currently circulating internet classified websites. The seller is always offering a very expensive breed of horse for $1000 or even Free. Common other breeds used are Gypsy Vanners, American Walking Ponies, various Warmblood breeds, and others. They specifically target more expensive breeds and make the buyer think they are getting a real bargain.   Common terms used in these types of scams are: "Loving horse for adoption", "Friendly horse for re-homing", and frequent mentions in the description about the horse having had all of his shots and friendly for family use. If you see an ad of this nature, please email us at support@myhorseforsale.com and we will assess whether the ad is valid, and remove the ad if it is found to be fraudulent.  For many of the horse scam ads, what the scammer does is copy someone's legitimate classified ad and then just change the price to free or $1000.  Beware if they want to rush a sale as quickly as possible – this is a big tip-off that you might be dealing with a scammer.
We monitor the site for scammers but also rely on you our customers to inform us of ads you think my be fraudulent.  Our goal is to remove scam ads within 24 hours of posting.  Some scammers may post innocent looking ads and then try to convince buyers that they work for myhorseforsale.com as an agent.   We never have and never will be part of your purchase transaction, we sell classified ads and do NOT provide financial services of any kind.  We are not a "safe harbor" company or agent, and have nothing to do with any transactions outside of sellers purchasing a classified ad with photos to list on our site.
Flag a suspicious ad
When viewing a horse ad details, you can flag a horse by clicking on the warning icon on the top right (report/flag ad) as shown below. Fill out the information and send to us and we'll start looking into the issue.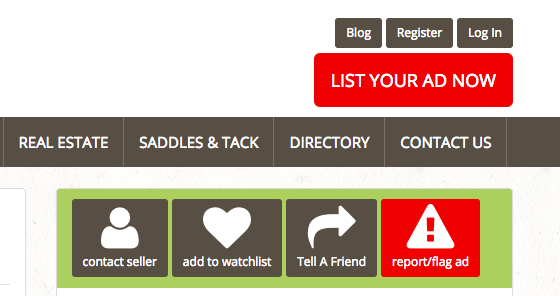 What to Do if You Think You've Been Scammed:
Contact us at support@myhorseforsale.com so we can pull the ad immediately.  Please provide a link to the ad itself, or the seller's username.
http://www.IC3.gov is a government-regulated agency that handles fraud across the Internet. Be sure to file a complaint with them so they can investigate the matter.
We will work w/state and federal organizations by providing them the necessary information to help your case.
How To Sell Your Horse Fast
Do you want to sell your horse fast? We've put together a guide to help you understand your options and walk you step by step through the process.