Horse Boarding Facilities: All You Need To Know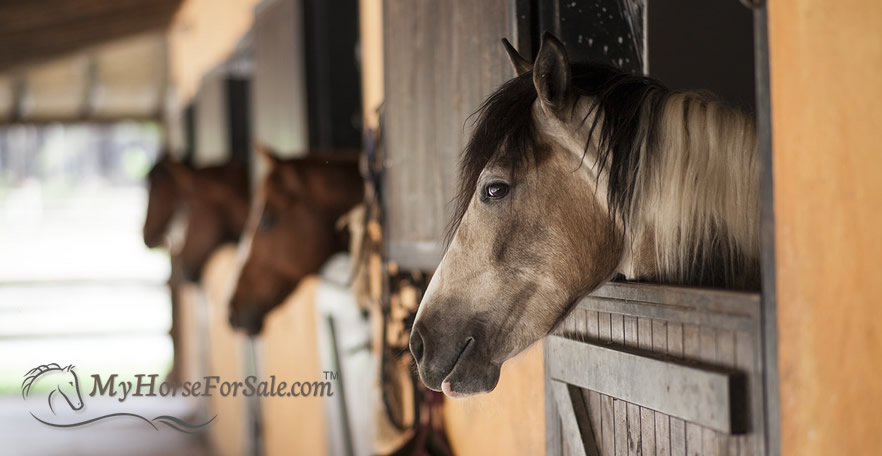 Horse boarding facilities provide a place for horse owners to keep a horse for a fee.  While horse owners enjoy activities with their horses, they may have limited space to board a horse or maybe short on the skills required to properly take care of a horse. For this and other related reasons, horse boarding facilities got established. Horse boarding facilities provide boarding services to horse owners with varying differences in their amenities and services. Depending on your needs as a horse owner you are likely to find a horse boarding facility near you.
Types Of Horse Boarding Facilities
There are 3 main types of boarding facilities, offering a variety of services. Generally speaking, the 3 types of boarding facilities include:
Full-service boarding facilities: as the name suggests, these facilities provide a comprehensive set of services which includes cleaning and stocking the stable, caring and feeding the horse and even training in some cases. Full-service boarding facilities are great for horse owners with busy schedules as they don't require the owner to come to the facility on a daily basis.
Self-care boarding facilities: these types of facilities provide only the facility to horse owners. The rest is up to the horse owner to do. This includes feeding the horse, cleaning the stable, and setting up bedding for the horse. This kind of boarding facility is great for horse owners who live close by because one would have to go every day to take care of the horse.
Part-boarding facilities: these types of facilities are where you share your horse with someone else for reduced boarding fees. This type of boarding facility brings together 2 parties in a contract where one has a horse and the other person wishes to use the horse for riding or training.
Pasture boarding facilities: these types of facilities offer basic care of the horse including feed and water but the key difference is that the horse lives outside all year round. Although the horse owner takes care of the horse on a daily basis, the staff will keep an eye on the horse.
How Much Do Horse Boarding Facilities Cost?
Generally speaking, the cost horse boarding facilities in the United States ranges from $225 – $750. The main factors that affect the cost of boarding facilities are location, facility amenities and services provided.
Location
Location plays an important role and is one that can be hard to deal with. For one, different regions have different costs for such things as land use which factor into the cost of running a boarding facility.
Facility Amenities
Horse boarding facilities come with a wide range of amenities such as training arenas, stalls, hacking trails, dressage arenas, and indoor arenas. These amenities usually cost to maintain and this is reflected on your bill. When searching for a facility, it's a good idea to know what amenities you're paying for and which ones are unnecessary for your particular needs.
Facility Services
In addition to amenities, horse boarding facilities provide services that are charged to your final bill. Such services include boarding, coaching, stable & pen cleaning,  blanketing, repellant application, and showing. You don't always have to pay all the services provided. Some boarding facilities allow you to choose from a menu of services which can help you save money.
When researching horse boarding facilities, be sure to ask about the cost of amenities and services and ways you can keep your bill low. You'll find that some boarding facilities are willing to lower the cost if you can take on some chores.
How To Select A Horse Boarding Facility
Choosing where to board your horse is an important decision. Because boarding facilities come in all sizes and styles, it's important to have a checklist that you can use as a guide. Here are some important aspects that you need to think about:
Location factors in a number of ways. For one, you'll be traveling to the facility to be with your horse. The far the facility is the less time you'll have to spend with your horse. Location also plays a role in the cost of horse boarding. Certain regions tend to cost more than others so it's important to compare costs in different locations.
Choose a boarding facility that matches closely with the services that you need. While some facilities offer an extensive list of services, others tend to be simple in form and provide just basic services. Others provide a little bit of both.
It helps to know the people running the facility. Are they horsemen or just businessmen that saw an opportunity and opened up the facility? How long have they been in business? Are they well-staffed? Knowing answers to these questions will allow you to best gauge who should care for your horse.
Once you have a shortlist of boarding facilities that you're interested in, plan to visit the facilities. While there, take a look around and see how well or poorly the facility is being cared for. A facility that seems to be falling apart could be an indication that they won't take good care of your horse.
Conclusion
Horse boarding facilities provide an important service to horse owners. The best way to get the most out of these facilities is to first understand your needs then search for the facility that will meet thee needs. Be sure to not only talk to the owners but also visit the facilities before committing to any one of them. This way, you ensure the best opportunity for your horse.
How To Sell Your Horse Fast
Do you want to sell your horse fast? We've put together a guide to help you understand your options and walk you step by step through the process.